Cypress Green ( Kharadi, Pune )
Kharadi, located in Pune is a developing city, mainly known for its IT sector. A lot of people and companies are coming to the city for personal and business purposes. To accommodate them, we have set up several service apartment in Kharadi.
These service apartments are perfect for both businesses as well as personal purposes. The Service apartments of Cypress Green are well designed and contain all the necessary amenities needed for a comfortable stay.
By Considering all aspects of our Guest We have Designed and maintained our Rooms so that they can chill out and at same time They can do their work without any disturbance.
Services And Facilities Provided At Cypress Green: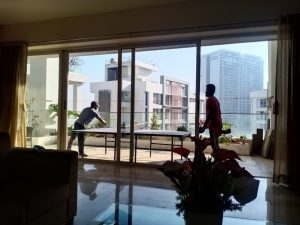 Indoor Games
We have a wide range of indoor games to pick from to help you unwind (i.e Carrom, Chess, Table Tennis etc..)

Library
While sipping a hot cup of coffee, read books available at our library to gain knowledge and success.

Professional Chef
To better serve you, we have a top chef who can sate your appetite. With Hygiene and high quality.

Complimentary Breakfast
If you have been offered a free meal, that is awesome!! With Hygiene and Best in Quality we provide Continental and Regional Breakfast of your choice.
Free WI-FI
High speed Wi-Fi to help you to work very smoothly and at same time to watch your favourite web series, Shows & Chill.
Tea / Coffee Maker
We understand after a very long day you might need a cup of coffee/tea to refresh yourself. So that we have put in Tea/Coffee maker in our apartment so that whenever you thirst, you can have it.
CCTV Surveillance
With CCTV cameras around the properties we have taken care of your Safety and Security.
Kitchen
To have your homely food experience, we have setup separate kitchen area. Where you can cook food of your choice. We have Refrigerator, Microwave, Gas Stove, etc.. amenities there in Kitchen.
TV With Cable Connection
After a very busy day, you can have a look over your favourite TV shows.
These are some of facilities and services we provide, Book your stay with us to enjoy our hospitality.